Alopecia : Hair loss differ in men and women. usually 100 to 150 hairs per day is common.
Hair loss causes:
INTERNAL CAUSES:

Poor diet

Severe stress

Hormonal changes

Puberty, pregnancy, menopause

Hypothyroid

Iron deficiency anemia

Drugs used for cancer, chemotherapy

EXTERNAL CAUSES: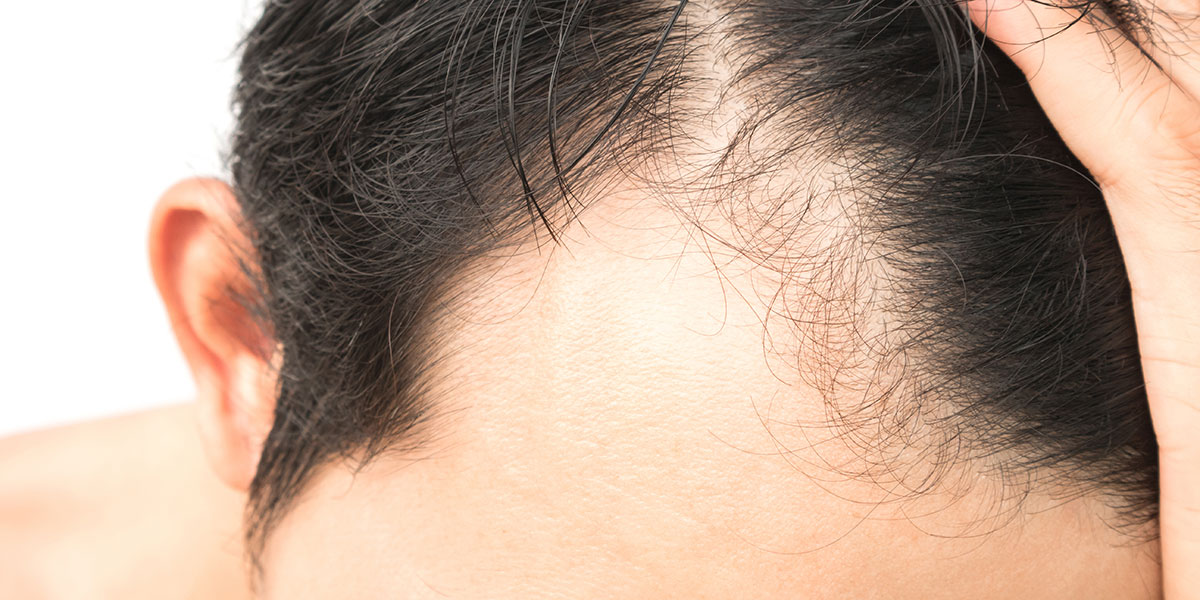 HAIR GROWS IN 3 PHASES
ANAGEN PHASE: actively growing phase

CATAGEN PHASE: breaking phase

TELOGEN PHASE: not growing, getting prepare for cyclic shedding
HAIR LOSS CLASSIFIED AS
LOCALISED/PATCHY HAIR LOSS/SMALL AREA:

ALOPECIA AREATA: Small size patch on scalp usually grow in months. Coin sized. Usually regrow in 6to 12 wks. Sometimes alopecia can affect hair on any other parts of the body such as beard, moustaches.

TRACTION ALOPECIA: Hair loss is due to repetitive persistent pulling force on hair roots

TINEA CAPITIS: Hair loss is due to tinea infection. Affects school going children

TRICHITILLOMANIA: Habit of someone voluntarily pulling at their own hairs, twisting them.

DIFFUSE HAIR LOSS:

TELOGEN EFFLUVIUM: rapid shedding of hair after child birth, after fever, menopause, after attaining menarche, after losing weight suddenly.

ANDROGENIC ALOPECIA/MALE PATTERN BALDNESS: shaped baldness found in adolescent boys, middle age group.

INVOLUTIONAL ALOPECIA: Natural condition in which the hair gradually thins with the age.
DRUGS WHICH AFFECT HAIR LOSS
Blood Thinners

Birth Control Pills

Drugs used to treat Cancer

Medicines used to treat Blood Pressure

Cosmetic procedures such as straightening of hair, Chemical Irritants in Shampoos
PREVENTIVE MEASURES FOR HAIR LOSS
Take healthy diet rich in VIT B, IRON, CLCIUM, PROTEIN, rich diet. Such as egg, fish, milk, wall nuts, broccoli, whole grain cerels, spinach, cauliflower, red meat, kidney beans, sweat potatoes

Avoid Pollution which increases Dandruff

Consume plenty of water

Avoid chemical treatments to the hair.
DIAGNOSTIC PROCEDURES FOR HAIR LOSS
Hair Pull Test

Biopsy scrapping sample taken from scalp skin
Blood tests
T3, T4, tsh
For women androgenic hormones like testosterone, prolactin, fish
Serum iron, serum ferritin levels.
Some rubrics helps in treating hair loss
hair fall allover SELENIUM

hair fall in children: BARYTA CARB, NAT MUR

alopecia in climacteric period: LYCOPODIUM 2, SEPIA 2

hair fall after disease: CARBO VEG, LYCO, THALLIUM MET

hair fall due to dandruff: THUJA

hair fall after delivery: NAT MUR, SEPIA, PULS, CARBOVEG, LYCO, SULPH, NITRIC ACID

hair fall after fever like typhoid: FLOURIC ACID

hair fall handfuls in: PHOS

hair fall due to injury: HYP

hair fall nursing during: NAT MUR

hair fall during pregnancy LACH

alopecia spots: NAT MUR, PHOS, FLOURIC ACID, CANTHARIS

hair fall with graying: LYC, SILICEA, ACID PHOS, KALI IOD.

thick hair: ANT CRUD, GRAPH, LYC

hair cutting refuses in children: CINA
How Homeopathy helps to cure Alopecia?
Homeopathy works wonderfully for all the cases of alopecia areata. Homeopathy does not work if there is scarring on the affected areas.
Homeopathy addresses underlying autoimmune disease process while treating Alopecia Areata so the results are long lasting and of course, the treatment is free from any adverse effects. Homeo medicines treatment can help the hair re-grow more quickly. When hair re-grows, it can be white or fine at first.
A person's own hair color and texture often return later. Usually women after child birth or during approach of menopause time massive hair fall result from hormonal changes.
Any hormonal treatment in those cases will not give the satisfactory results. But well selected homeopathy medicines in this case not only cure the hair loss problem but also be helpful to cure all other associated problems.